Preface
This is a short story about me and my mountainbike. If you are a fundamentalistic car driver, walker, swimmer, parachuter or if you simply don't like bikes at all, I suggest you to leave now – not to get bored. On the other hand, you will get a free introduction to a bike's life, so don't miss that opportunity, who knows when you'll get the next one? Anyway, the story may raises feelings like, excitement, fear, frustration – the whole spectrum of human behaviors. So be warned and read the disclaimer before.
Episode I A new bike was born
It was in the early summer of 1998, when I saw a delighting, pretty full suspension freeride mountain bike at my preferred bike dealer's shopping window. I was pleased, not only by the amazing frame construction, but also by the relatively nice price for a completely equipped full suspension bike with the specifications mentioned on the main page.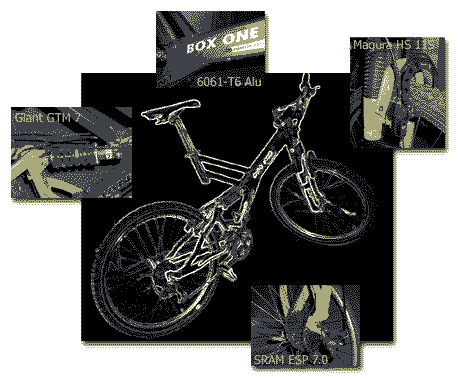 At that point I didn't know anything what would be up to date concerning mtb's. I simply was searching for any summer sports to start with, and so I became an amateur mountain biker, like millions of people before. The next years, the bike served to its' best for more than 10.000 km steep mountain up tracks as well as muddy downhills or simply straight roads. In end of fall 2001 the gearing cassette reached the end of its lifetime. So decided to renew the cassette with the new biking season 2002, what I put into action in February 2002 (for about 150€)…
Episode II Malfunction
March, 2002: Dday. A nightmare. It was a wonderful, unusual sunny, hot winter day. About 20 degrees celsius, calm. A good day to … ride the bike! Free way – no bikers on road. Excellent conditions. We decided to take a special downhill version of route 2. We were at half of the ascent. We took a brake. Then it happened… I took a look – innocent like a virgin, not being aware of the consequences. The frame caught my fancy. Unbelievable pain, suffer, anguish. Shocked. Like a flash strokes your heart (I did not experience that yet, but I suggest to be comparable). It looked like that: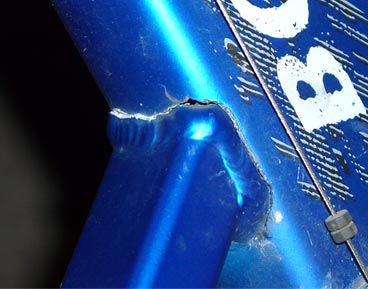 The broken base frame. I still cannot believe it… I became horrified.
What have I done? I just rode my bike. Uphill. Was that too much? Did I deserve such a torture?
Even 6061-T6 seems to be too weak. Next one will be carbon of course!
The first things, after a certainly long phase of recollection, was to handle my grief and despair and express it in words:
My bike has gone. Gone back to the place where it was built. Via UPS. After long suffer, serving to the best in any situation. A steep downhill before. It didn't make it. It broke on its quest. Nothing is like before and never will be. I miss you. Rest in peace.
Episode III Morphing
On the next day I went to my local Giant dealer. He was amazed and asked me, what I've done with the bike. But damned, I just rode it! He didn't believe but sent the bike to the next GIANT distribution center. More than 6 (in words: six!) weeks later, Giant delivered a new Warp frame. It is an inch smaller and the successor of the Box frame. Now, I know why *G*. But that's still not the end of the story. Unfortunately not all components form the old frame fitted best to the new one, especially the front dérailleur was much too big. So I had to wait another four (in numbers: 4!) weeks until I received a customized mix between Box One and Warp series with SRAM 5.0/7.0 and Shimano LX/XT components. You' ll never find such a composition again, sure. Don't ask me how that matches… Enjoy some impressions of my new bike.

The new frameset has the same suspension like the old one.
Single suspension point. Looks straight massive anyway.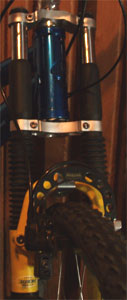 The front view with the oversized RST fork.