Preface
You should have read the first story before starting with the prolongation. Well it's not really necessary for understanding, because it's not a prolongation in common sense, since the story below does not focus on my old bike. Yes, you read the right way! I now have an old and a new bike…
Episode I
The birth of a new star
Foggy, cold late summer days in August and September 2002. Somewhere on Earth, more exactly on the land mass anywhere between the poles. A forsaken landscape commonly known as the wood quarter. A usual day as the hundreds before. An unusual day, as no one before. I woke up. I did not really know what to do, so I decided to visit my local bike dealer. I supposed, he would have some special offers for the last 2002 bikes on stock. And yes, he had.
A Merida XC Mission Pro caught my fancy immediately as I entered the shop. It was great, well equipped, but didn't fit in size. So asked the shop keeper, if he could manage to get an XL frame. Unfortunately he denied, the presented one was the last he had. Even the Merida distribution central could not manage to deliver an XL frame for the Pro with special price. But he convinced me to take a look at the XC Mission Elite…
There it was. The feelings you become aware of, when you say "love at first sight". It was fascinating. The XL full suspension alloy frame decorated with highly delicate XT/XTR components. The low ratio suspension which keeps the angle constant and improves performance to a never seen, comfortable, full XC functional racing bike, before. Devine. Ok, the color combination could have been selected with a bit more enthusiastic touch – but who really cares, when it is covered by stinking mud…?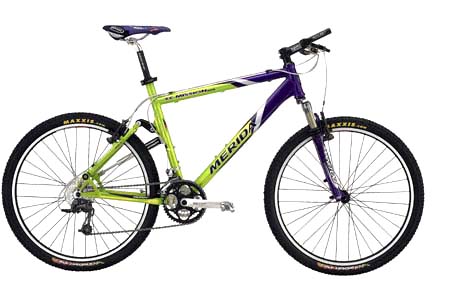 That's how the original Merida XC Mission Elite looked like.
So I rode the bike and was… yeah, I have been persuaded immediately. The well harmonizing XT/XTR components made the decision easy: I wanted to have it. But I tried to perform a much more reserved strategy (even my dealer already got note from my joy :-), the price was still very high (~ 2.800€)… To make a long story short. The dealer sold the bike for 2.100€, the backup spring for the rear damper included.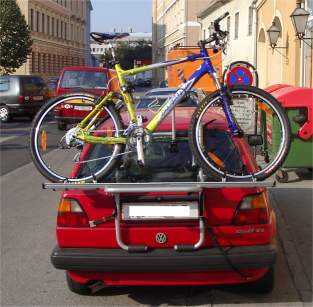 The bike pickaback on my old VW GOLF.
Now I ask you? Should I've sayed "no"? Should I've realy had to miss that chance? Nay. In fact, I didn't.
Episode II
First experiences
It took me exactly 2 days, 1 hour and 34 minutes till I had enough spare time for my first real, intensive ride with my new toy. Oh god, was that bike great. The fascinating cooperation of all the beautiful, clean, high tech components. The seamless, light-weight alloy frame, that fitted exactly to my body's size.
Ok, enough salutations. The XT shifters were hard to handle, especially if you got used to the SRAM ESP ones. The tires were highly weight optimized – and therefore the grip only served on roads. XC was not manageable with those profiles. Second, the tubes had a much too slight for the rough bedrock we used to bike. Third, rear dumper setup was much too soft for my approx. 90kg. But all those things could have been resolved by a little 'fine tuning' like replacing the tires and tubes and pumping up the dumper…
Unfortunately the weather was not that good to drive more than about 300km with that bike in summer/fall 2002. Till now, it fulfilled my expectations. 'Hope it will continue.. So long, now here are some pictures to enjoy.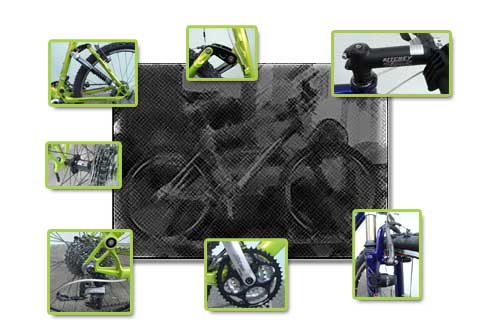 Episode III
Pickapack revival
I think it was in the late fall 2002, when I decided to sell my old, but still well serving vehicle – my beloved VW Golf II. A new one caught my fancy, just a few days ago, found via Internet.
It was blue – what a mess. Well, you won't believe, what you are getting used to, if just try… However, the new one, again a VW Golf, but not a III, as you would suggest (my very first car was a VW Golf I 🙂 – no, I'm *really* not addicted to VW, it's just my repairman, who specialized on VW). In fact, it was a VW Golf IV 1.9 TDI Highline. It had everything, I was always dreaming of. Enough HP (110), ABS, 4 airbags, climatronic, power steering, etc…
You ask yourself, why I'm telling you so much about my new car? Well, there was a kind of problem with my bike old pickapack model (I did not thrust it to fit exactly on my new car), which I finally stored somewhere in my cellar (between the wine and the skeletons). I searched for a better way to transport my bike on my car – and found one:
The new bike on my pickapack on my new car…
Atera Duro's base it made of plastic and protects the bike from the road's dirt. It serves quite well, unless you don't leave your Polar S710 unmounted on the platform and start driving home from your last run… But that's an other story.